Cleaner Products. Cleaner Planet. Cleaner People.
Innovative personal care products that are better for the body and better for the planet.
Clean defines our name and mission – clean ingredients, clean, unclogged pipes & sewers, keeping the planet clean, and actually cleaning the body and backside.
Shop All Pristine Products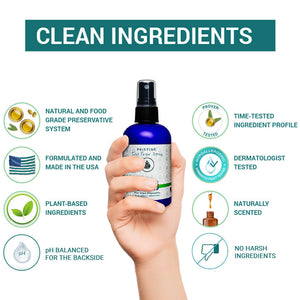 Cleaner Products
Pristine is made with clean and time-tested ingredients that are thoughtfully selected based on their origin, safety profile, and history of performance within the cosmetic industry. We don't use fillers or additives, and never any harsh ingredients. Pristine is as clean and fresh as your bottom will be after using it.
Our Ingredients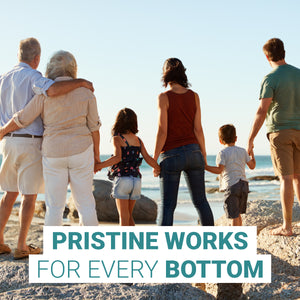 Cleaner Posterior
Pristine lightly moistens toilet paper with refreshing, cleansing, and moisturizing ingredients that are gentle enough for delicate skin and effective enough to cleanse and refresh every bottom.

Pristine works with regular toilet paper to create a truly flushable and more natural wet wipe alternative.
Our Toilet Paper Sprays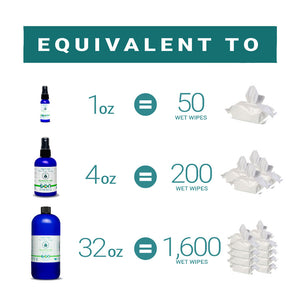 Cleaner Planet
Using Pristine as opposed to wet wipes helps to reduce the number of wet wipes that enter plumbing, sewers, landfills, and oceans. You can flush Pristine with confidence knowing you won't clog your plumbing or contribute to fatbergs.

Protect the planet and your posterior one wipe at a time.
Our Mission
Testimonials
Great Product!

Nice way to stay fresh and feel clean without using babies wipes. Yes, we have had the plumber out a few times telling us the wipes were the problem. I saw this Pristine Spray on Shark Tank and knew right away I needed to try this new idea. Thank you for the neat and cheap way to replace the wipes, and our plumbing bill.
Exceeded my expectations

Small enough to fit in pocket or purse. Great for travel. Better
than water alone for effective cleansing.
VERY NICE

This is an environmentally sound alternative to (non) flushable wipes. No clogged pipes or gross wastepaper basket disposal. I'd also like to compliment this company on a wonderful work ethic. They were responsive and extremely fair when a small shipping problem occurred. Very good people! Good product too!
Worth Every Penny

This product is amazing and worth the extra few dollars compared to the others!! Very subtle clean fragrance. Also some of these other sprays wet your toilet paper to much and causes it to tear. This spray is more of a light oil and perfect on even thin toilet paper.
Works really well

The toilet paper holds up really well when you use this spray.
My main concern was that the paper would fall apart, but it absolutely does
not.
This actually works!

I was addicted to flushable wipes but my toilet kept clogging so
I knew I needed a better solution. This works perfectly. The scent is nice -
not too strong. It doesn't leave a residue "down there" and
surprisingly doesn't make the tissue fall apart. I highly recommend. Just buy it.
I look forward to doing my business

Two pumps of this on toilet paper before wiping. It both helps
clean and makes each wipe feel better. Afterwards I enjoy the feeling of being
totally clean and gently anointed.
Could not do without this!

I'm a busy, working mom. Showers are an infrequent luxury for me. A friend recommended the body cleansing spray. So thankful! It's the only reason I'm not stinking up my home. I loveit! It smells fabulous, and I truly feel so clean after I spray down.
Removes ALL the sweat and stink!

I don't have the time to shower & dress after each workout. I found
a fix! This Speed Shower is amazing to clean off after a workout. It gets off all the sweat and stink and left me feeling squeaky clean so I could jump back in my clothes and get on with my day.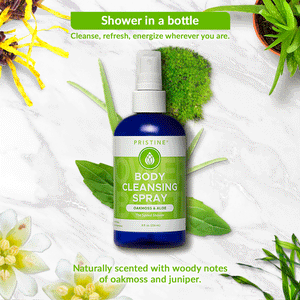 Cleaner Products
Our Body Cleansing Sprays are thoughtfully curated with the same care as our Toilet Paper Sprays using high quality, clean, and time-tested ingredients that gently and naturally remove dirt, oil, and odor.
Our Ingredients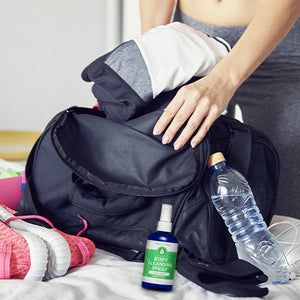 Cleaner People
Spray down with our Body Cleansing Sprays after a workout, after a sweat, or anytime you want to feel clean, refreshed, and energized throughout the day so you are always ready for the next thing.
Our Body Cleansing Sprays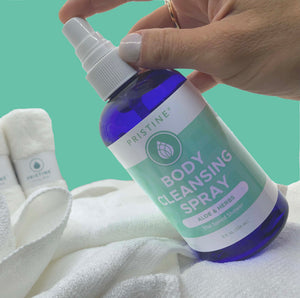 Cleaner Planet
Spray directly onto the body or onto our plush Bamboo Washcloths and wipe down for a refreshing cleanse. Recycle curbside or reuse our bottles. Repeat for a clean body and a cleaner lifestyle.
Our Mission
Featured On